Food Jail Warden
Philip Goglia
President, Founder, Grand Poobah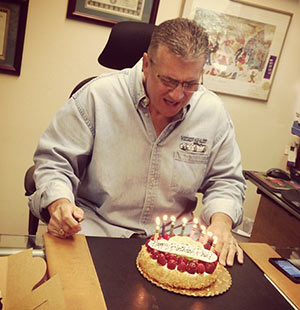 Philip Goglia is the founder of Performance Fitness Concepts, one of the most elite performance nutrition and rejuvenative health and wellness clinics in the United States. He has been a certified nutritionist for over 30 years and has been recognized as the recipient for the 2009 and 2010, 2011, 2012 and 2013 Best of Santa Monica Award in the Dietician category by the US Commerce Association. Most recently he was awarded the 2013 "Deborah Constance Children's Inspiration" award for his commitment to health and wellness mentoring at the inner city charitable foundation "A Place Called Home."
Dr. Goglia holds a PhD in Nutritional Science, and is a graduate of Duke University, The American College of Sports Medicine and the National Academy of Sports Medicine. Additionally, he serves as the official nutritionist for Gold's Gym International, exclusive nutritional consultant for the Amgen/UBS Masters Cycling Team, Lux, Team Helen's and Velo Club LaGrange. He is a board member for Visions and 449 Recovery Centers, a spokesperson for TriFit Athletic Center, Glaceau Corporation, makers of Vitaminwater and Smartwater, Nozins, Bonk Breaker nutritional bars, and Sharkies nutritional energy chews.
At Performance Fitness Concepts, realistic and achievable nutrition and exercise programs that focus on an individual's own unique metabolic needs, lifestyle, eating habits, stress, training regimens and workloads. His clients include not only pro and semi pro athletes and endurance athletes, but as well, hundreds of amateur athletes in the endurance sport community within Los Angeles and across the nation. His nutritional expertise is fully measurable, with the proven ability to take all of his clients and athletes to the highest level of their performance and competitive abilities. He has a pedigree of athletic history himself as a high school and collegiate All-American wrestler, a storied 12 year history as a rugby player, a Mr. North America bodybuilding champion, and a Grand-Am motorsports race car driver (7th at the 24 Hours of Daytona). He currently races on the Lux & Iron Fly cycling team and is an active member of Velo Club LaGrange.
Recently Marvel Comics Production Company has reached out to Dr. Goglia to contract his expertise for their action adventure "superhero" actors. Over the last few years actors from the Ironman Franchise, Thor, 21 Jump Street, Captain America, and the Avengers have spent weeks at Fitness Concepts honing their physiques for their action adventure roles. Actors that burnish Goglia's physique changing nutritional strategies, include Chris Hemsworth, Chris Pratt, Sebastian Stan, Ryan Gosling, Chris Evans, Jai Courtney, Emilia Clarke, Alexander Skarsgard, Channing Tatum, Karen Gillan, Alyson Hannigan, Alexis Denisof, Jonah Hill, Zosia Mamet, Clara Mamet, David Mamet, Sarah Sutherland, Richie Sambora, Bon Jovi, Raven Symone, Ed Asner, Nathan Fillion, Rufus Sewell, Dominic Purcell and Mickey Rourke, just to name a few.
Dr. Goglia's bestselling book, released in 2001 (Penguin Puttnam Press) "Turn up the Heat - Unlock the Fat Burning Power of Your Metabolism" is an acclaimed "Best Seller" and a must read. Dr. Goglia has appeared in numerous magazines and television programs including E! Entertainment, CNN, People Magazine, In Touch, Life and Style, In style, Men's Fitness and Vogue. He is the official nutritional consultant for the Dr. Phil show and The Doctors television shows, and was the nutritionist for Jennifer Grey, for her season 11 win on Dancing with the Stars (and the oldest winner). Jennifer used Dr. Goglia's nutritional principles and weekly counseling to manage the rigors of her daily competitive dancing and the fitness it required to recover and repair her body without injury.
Dr. Goglia is not an "armchair nutritionist". Having been a three time cancer survivor and once told that he would never walk correctly again or play a sport, he fully understands the commitment it takes to emotionally and physically take a stand for health and well-being. Daily, he supports his clients to overcome their wellness obstacles through the use of his years of education, life experience and wisdom. His struggle with childhood obesity presented a tremendous amount of challenges, which he now uses as a source of motivation to help others. His scientific approach to Metabolic Nutrition is proven in practice and founded in science. He is consistently on the cutting edge of performance fitness and nutrition; proving the salt of his scientific nutritional approach daily as he trains next to his teammates and many of his elite endurance clients.